Be Sophisteacated
At Cham, our goal is to craft fresh, cold brewed teas that are minimally filtered and are the perfect balance of wellness and taste without any compromises whatsoever. We believe that you should never have to settle for a bland tea that has been hot brewed, scorching most of the nutritional benefits or worst yet, loaded with preservatives and sugar.
Never Heated. Ever.
When we say Cham is never heated, we mean it. Our entire process is focused on maintaining a cold chain of events starting from the initial harvest of our raw ingredients up until it reaches your grocer's shelf. Our organic herbs and fruits are kept as whole as possible and naturally dried. Our organic raw honey comes directly from our winged little buddies who are treated with respect and never fed antibiotics or sugar feed. Yuck.
Our lemons are cold pressed and even our triple-filtered water we steep tea in is kept cold – we even lean on cutting edge technology to cold pasteurize our tea once bottled (HPP).
Our way of making tea paired with unique flavor profiles makes us confident that you have never tasted (or experienced) a tea like Cham before. Welcome to the #ColdBrewCrew.
Sustainabili-tea
We support and partner with small growers throughout the world who share our passion and commitment to organic and sustainable agriculture methodologies.
Our premium wellness teas are cold brewed in small batches using only the highest quality whole ingredients creating the freshest and best tasting tea available.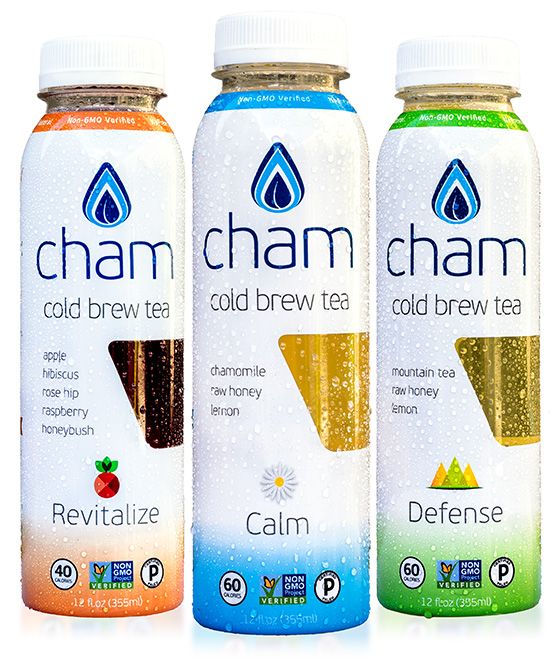 Why Cold Brew Tea?
Cold brewed tea differs from its hot counterpart which in essence "cooks" the tea, forcefully extracting flavors while simultaneously changing its original composition and definitively altering its taste.
Steeping tea in cold water over a long period of time produces a superior tasting tea that is smoother, less bitter and truer to its original flavor profile. Additionally, cold brewing helps preserve as many naturally occurring benefits that heat in traditional brewing can deteriorate.
Revitalize
Hibiscus Fruit Tea
An invigorating elixir of cold brewed superfruits and hibiscus bursting with a vibrant fruity taste and delightfully sweet aroma. Mildly tart berry undertones are balanced out by the sweetness of dried apples, South African honeybush and raw honey, making for a harmonious journey of the senses.
This luscious, full-bodied tonic will help to elegantly relinquish everyday pollutants and will clear the path to inner rejuvenation.
---
---
Benefits of Revitalize

Contains anti-oxidants and polyphenols
Hibiscus has shown to help detoxify your system and lower blood pressure

*These statements have not been evaluated by the FDA to treat or cure any diseases.

Ingredients

Filtered Water, Organic Apple, Organic Hibiscus, Organic Rosehip, Organic Raspberry, Organic Honeybush, Organic Raw Honey
Calm
Chamomile Tea

A refreshing modern take on an old classic tisane, chamomile has been used for centuries to calm the soul and mind.
Our Greek chamomile thrives in the Mediterranean terroir under an abundance of sunshine until is it is hand-harvested in the early spring. Harnessing the benefits of raw honey and citrus, we've crafted an aromatic, soothing and refreshing tea that is not only delicious, but good for you!
---
---
Ingredients

Filtered Water, Organic Chamomile, Organic Lemon Juice, Raw Honey
Defense
Mountain Tea

Mountain tea (Ironwort) has been used for centuries for its multitude of benefits that maintain a healthy immune system. Heavily revered by the ancient Greeks for its properties, it was even used to treat wounds caused by iron weapons during fierce battles, hence its alternate name, Ironwort.
Staying true to tradition, our mountain tea is hand-picked from elevations exceeding 3,900 feet in the rocky mountains of central Greece. This single varietal, unprocessed super herb produces a distinctly aromatic and refreshingly delicious tisane.
---
Ingredients

Filtered Water, Organic Mountain Tea (Ironwort), Organic Lemon Juice, Raw Honey
---
Ginger Palmer
Half n' Half w/ Ginger

As the summer temperatures rise, cool down with our modern twist on the classic half and half that will keep you hydrated on these hot and sticky summer days.
Ultra smooth and robust, our premium organic cold brewed black tea is elevated by the refreshing citrus notes of cold pressed lemons and supercharged with a shot of ginger.
America's favorite summertime thirst quencher just got an upgrade.
---
Summer Seasonal Brew

Limited Summer Release

Ingredients

Filtered Water, Organic Pressed Lemons, Organic Raw Honey, Organic Black Tea, Organic Pressed Ginger and Organic Stevia
---